Hospital Hours
MONDAY – FRIDAY
7:30 AM – 5:30 PM
Sunday 2pm to 5pm
for Boarding Check in/out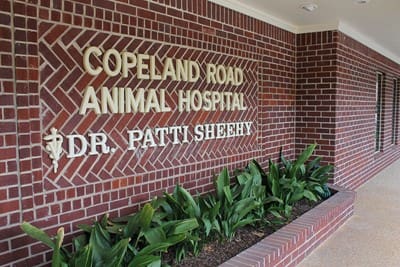 Copeland Road Animal Hospital in Tyler
Copeland Road Animal Hospital in Tyler is a full service veterinary hospital that provides excellent patient care, grooming, and boarding for both cats and dogs. We are conveniently located in the heart of Tyler, and are committed to exceeding your expectations.
Copeland Road Animal Hospital in Tyler we believe pets are an extended member of the family which is why we practice the highest quality of veterinary medicine. We are dedicated to treating your pet as if they were our own, and invite you to come by the hospital anytime to meet our friendly staff and tour our facilities.
Copeland Road Animal Hospital in Tyler we believe that in order to serve our community best, it is pertinent to give back to the community. Over the past two years, we have been excited to donate over $9,000 in services and financial support to many organizations and causes in the Tyler area.
For your convenience, we gladly accept:
Check out our convenient Pet Health ID Cards! These cards are mailed to you just a few weeks after your pet's annual exam. They include our information, your contact information, your pet's photo, your pet's description information, current vaccine history, allergy information, and microchip number. They come in very handy when you take your pet to public events, when you are out of town, and/or if your pet has an emergency. They can be easily stored in your wallet for you to have on hand at all times.
Be sure your pet is protected from fleas and ticks with Bravecto.
12 week Flea and tick protection
1 chew
Zero Worries
The VetScene app puts the healthcare of your pets in your hands. With the free app, you're able to connect with us at the click of a button.
Request appointments and view future appointment schedules
Refill medications
Access pet health records
View reminders and vaccination history
Upload your pet's latest photo
View our clinic specials for timely promotions