At Copeland Road Animal Hospital your pets' overall health is our top priority. With good health comes preventative care such as vaccinations, parasite control, flea / tick and heartworm prevention. Pets also need good nutrition, exercise and regular physical exams. All these things can lead to improved quality and life expectancy of your pet.
In order to provide the best care available for your pet we provide many diagnostic tools and preventative care measures for all pets.
The following is a list of services we provide:
Allergy Testing
Bathing
Behavior Counseling
Blood Transfusions
Cardiac Care
Critical Care / Hospitalization
Dentistry
Diagnostic Lab work (Blood work, Thyroid testing, Cytology, Urinalysis)
Grooming
Glaucoma Evaluations
Heartworm Treatment
Laser Therapy
Microchipping
Nutritional Consultation / Prescription Diets
Overnight Boarding / Day Boarding
Parasite Control
Radiology (Digital X-ray)
Surgical Procedures
Ultrasound
Vaccinations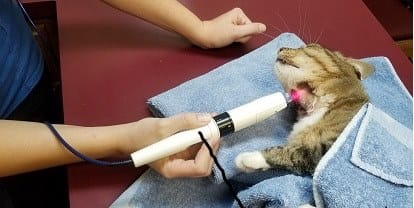 Appointments
We provide several different appointment options for our clients to help accommodate their busy lives.
A sitting appointment is a conventional appointment that is set at a certain time with adequate time for you to consult with the Doctor and get the services your pet requires.
A day admission appointment is where your pet is placed in our care in the morning and picked up later at a specified time or at your convenience. The doctor will examine and proceed with any services needed. This allows for consulting with the Doctor at the pickup time and there is no additional charge for this service. We will need a reachable telephone number in case any additional findings or services are needed.
As a hospital we do take emergency cases that may add a delay in our scheduled appointments. However, we will still take the time with every patient to be sure their needs are met and will not rush appointments to make up time.
Privacy Policy
Copeland Road Animal Hospital believes strongly in client / patient privacy. We will not collect, distribute or share any information on you or your pet to anyone or any facilities without your consent.
Financial Policy
Full payment is due at time of service. For your convenience, we accept the following forms of payment: cash, MasterCard, Visa, Discover, and American Express. We also accept Care Credit which serves as a healthcare credit card which offers flexible payment plans and can be used at a variety of human healthcare facilities as well.